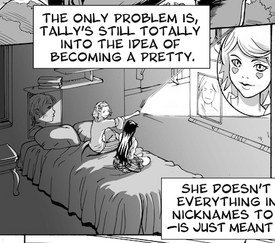 Morphos first appears in Uglies, when Tally and Shay are sitting in a room, deciding on what to do.
The program that makes Morphos, which are pictures of you that you'd want to look like after the surgery, it designed to take half of your face and double it, creating the perfect symmetrical face. After the side you like best is doubles, the fat is " sucked out", the lips plumped up, the eyebrows slimmed and made identical, and the skin tone evened.
Although Littlies and Uglies use Morphos as both a tool and a game, the idea behind it is to make the Uglies think of themselves as even more hideous, after seeing the "perfected" version of themselves.
Ad blocker interference detected!
Wikia is a free-to-use site that makes money from advertising. We have a modified experience for viewers using ad blockers

Wikia is not accessible if you've made further modifications. Remove the custom ad blocker rule(s) and the page will load as expected.